Richard Andersson was born in Ystad, Sweden, March 28, 1972. As a child he seemed to enjoy classical music such as Bach, Vivaldi, Mozart etc.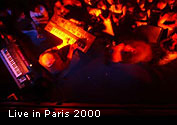 He tried to learn music the traditional way, but lost interest due to the strict and non-improvisational aspect of the lessons. At the age of 7 Richard already was capable to play some advance classical stuff just by listen to the music. Organ and Keyboard became Richards's biggest interest. Improvisation was his trademark.

When he was 15 years old, he created his own special style with influences from masters such as Jens Johansson, Yngwie Malmsteen, Jimi Hendrix. Solo playing was the one and only way for him to express his feelings in a satisfying way. Early in his career he liked to compose his own music. A bunch of demos with songs played by a keyboard player with fire in his fingers are probably a prove that Richard is one of the most interesting keyboard players in the world right now.

1998 Richard created the band MAJESTIC. This neoclassical, progressive metal band has surprised the music scene like no other band in this genre. With brilliant arrangements and melodies based upon almost spectacular musicianship, MAJESTIC was there to stay. MAJESTIC has released two albums (Abstract Symphony, 1999) and (Trinity Overture, 2000), both at Toshiba/EMI (Japan) and Massacre, NTS (Europe). The band also went to Japan to meet the Japanese audience. MAJESTIC has toured with bands like Pretty Maids and Symphony X. Richard did also spend a couple of weeks with Yngwie Malmsteen in Miami. Due to the fact that Richard was busy with MAJESTIC he had to turn Yngwie down according to the job in Rising Force. But maybe in the future!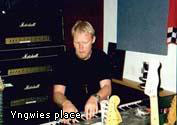 Returning from European tour 2000 Richard decided to put Majestic on ice and locked himself away and started to write on something he had in mind for a while. A bigger, more progressive and more Symphony X and Dream Theatre sort of album. It´s a sort of continuation of Majestic, even though it´s a brand new thing.

The new band was named Time Requiem. Time Requiem has recorded three records: "Time Requiem" (2003), "The Inner Circle of Reality" (2004) and live record "Unleashed in Japan" (2003) recorded during Japan tour 2003.

Besides Time Requiem Richard has his solo project Space Odyssey together with old friend Magnus Nilsson. Space Odyssey entered the metal scene with debut album "Embrace the Galaxy" (2003). A second record is on working stage.

Personal information:

Your name
Richard Andersson

Your birthday: month/year
March 1972

Your birthplace
A small town called Ystad in the south of Sweden

Your height/your weight
Well! I am very tall, about 2 meters actually. My weight is around 95 kilos. That's true!

Colour of your eyes
Green

The musical influences
I do not have many musical influences. To mention a few there are great bands like: Deep Purple, Rainbow, Jimi Hendrix, Yngwie Malmsteen, and Symphony X. I get all my inspiration from the classical music composed by masters such as J.S Bach, Antonio Vivaldi, Mozart, Paganini etc.

The first record you bought
I do remember that! That was (in German language): "Eine kleine nacht music" with Wolfgang Amadeus Mozart. I was 7 years old when I ordered it from a mail-order catalogue.

The first concert you attended
1988 Deep Purple "Perfect Stranger" in a town called Lund in Sweden. Great show!!!

When & how did you get your first musical instruments?
My father was a music teacher. He used to teach organ. He had a bunch of small organs in the basement. I use to sneak in between classes and play my first improvised scales. Yeah!

When did you decide to become a professional musician?
I always have had in mind that music will be my lifestyle. Already in early days I used to say to my mother that I wanted to be a musician. I cannot imagine how my life would be without music. I do not listen to music any more at all. I compose and play my own music. That is enough for me. So! I do not know much about what's happening around me on the music scene nowadays. In fact I am not that interested to be honest!

When and where did you play the first gig?
My first gig was in my school's assembly-hall. I was about 10 years old and I think I'd play some classical stuff.

The most unforgettable concert (your own or others), and why?
3 years ago I went to Copenhagen in Denmark to see the Irish show called Riverdance. The way they performed the dance synchronized with the music amazes me even today. I like Irish traditional music. In fact I like all kind of different folk music. I find it very interesting.

Please describe your personality with 3 adjectives.
Focused
Responsible
Not lazy

The band or musician you want to meet most
Wow! That's a hard one. If I could meet a musician or composer I would definitely like to meet J.S. Bach. I would have so much to ask him about.

What is the last thing you do before you go on stage?
Tell my musicians not to fuck up! If they do, they will have to deal with me after the show! (Laugher)!

Who was (were) your hero (es)?
I have never had any heroes. I am not the person that can look up to another individual in that way. I treat everyone equal. I do though admire some persons like: my two children "Elina" and "Elias". My grandmother was also a very respectable person. In fact I admire honourable people.

Do you get along with your parents?
Oh! Yeah! We have a great relationship. I also have two brothers. We talk to each other every single day. I am very much a family person. I love my family.

Person you'd least miss
Adolf Hitler

If you had not become a musician, what would you have chosen as your career?
Probably something connected to the nature. I am very interested in health care and do a lot of running, swimming and walking. I like to be outside. Unfortunately I have to be inside too much in my job.

Your attitude toward life (philosophy, etc)
I do not believe in God or in any other beings. I do not believe in life after death. I believe in the present and in people and their goodness. You must capture the moment's right here and now (Carpe Diem). You must be close to the people you love and do the best of the situation. Life end's and there is nothing after. You must also contribute with the best you can to preserve for your surviving.

The most embarrassing moment of your life (so far...)
People sometimes find me a bit funny I think, so I do not feel embarrassed about anything. In some strange way I always get away with a joke or two. I have a huge self-confidence. Nothing can break me down.