Richard Anderssons SPACE ODYSSEY project was formed by Richard Andersson and guitar player Magnus Nilsson. After the two having a dinner they decided to do something together and the guiding principles were set. Richard and Magnus have known each other for years but never got together in studio. Richard describes Magnus as: One among the best guitar players I have ever played with. Extremely good sense for music in general, which you can hear by his huge vibrato and great felling for the guitar. I'm Very happy to introduce him to you and the metal scene.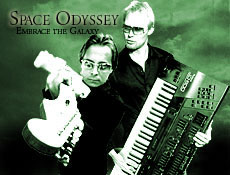 As Richard composed the songs and Magnus recorded the pre-production they both thought it could be fun to work with well-known musicians, since it more was like a project. Very soon well known Marcel Jacob (bass) and Patrik Johansson (vocals) were contacted and introduced to the material. Marcel with a history in Yngwie Malmsteen's Rising Force. Pre-production CDs were sent to the different musicians and recordings took place. Richard's friend Jonas Reingold introduced Zoltan Csörsz to him. Zoltan's got this fusion/metal touch in his drumming and that's very suitable for this kind of music, since there are different parts including these elements.
Richard Andersson's SPACE ODYSSEY Project was recorded September/October in Reingold Studios and released august 2003.


The second SPACE ODYSSEY concept came up after Richard had completed a record for his other band Time Requiem. As usual Richard was full of energy when it came to creating music. He very early said to himself that this second Space Odyssey must be really something. Richard then concentrated on the songs and melodies trying to make the music even bigger and powerful not to run away into power metal.


This time Richard asked Magnus if he could try to play the bass for the record. Magnus saw it as a challenge as the music is very complex. The reason not to having Marcel Jacob on this one as well was because of this curious idea that Richard had. Since Magnus already recorded the guitars he could fill in the bass in a very satisfying way. Personally Richard thought this move was brilliant.
Later on Richard was sent a video of a hell-playing drummer. His name was Andreas Brobjér. Andreas was very fond of Richards's music and really wanted to play in his band. Richard saw the video and was blown away. It reminded him on his own talent when growing up. Later on Richard sent Andreas the pre-production for Space Odyssey, which Andreas copied to Richards satisfaction. Since Zoltan was kind of busy this time with The Flowerkings Andreas filled his place like no one else could have done.
The recordings were done in two studious. Guitars, keyboards, bass and vocals were done in Richards Lipton studio. Especially the vocals were a bit magic to record. This time Richard were in total control over everything from the sound to the producing part. The vocals were recorded in just a few days exactly the way Richard wanted.
After having all the instruments on place Richard took the production to his old friend and producer Jonas Reingold (Midnight Sun, Reingold, The Flowerkings etc.). They both completed the mix in ten days. Since the songs were so well played and performed Richard wanted to have a "close in the face" mix with not that much of effects etc. The record were finally Mastered by Peter In de betou at Tailor Made Production. This guy has done most of the metal coming from Sweden lately such as (Hammerfall, Evergrey, Meshuggah, Europe etc. and even many of the ABBA records).