1998 Richard created the band MAJESTIC. This neoclassical, progressive metal band has surprised the music scene like no other band in this genre. With brilliant arrangements and melodies based upon almost spectacular musicianship. MAJESTIC has released two albums (Abstract Symphony, 1999) and (Trinity Overture, 2000), both at Toshiba/EMI (Japan) and Massacre, NTS (Europe). The band also went to Japan to meet the Japanese audience. MAJESTIC has toured with bands like Pretty Maids and Symphony X. Richard did also spend a couple of weeks with Yngwie Malmsteen in Miami. Due to the fact that Richard was busy with MAJESTIC he had to turn Yngwie down according to the job in Rising Force. But maybe in the future!

Summer of 2001 Richard felt that it was impossible to go on working with present business partners. Richard speaks:

Since my goal in life is to create music totally free from interruptions like business ship, record contracts etc. I now have decided to put Majestic on ice for a while. Further partnerships with present business partners were impossible. I am not feeling very sad about the situation, because creating the soul and spirit of Majestic has made me into the musician I am today. Luckily I already had in mind for a half a year or so, an idea about developing my music into something more aggressive and powerful but still with strong and beautiful melodies. The result of a couple of months composing became a mix of progressive neoclassical metal and melodic power metal. So! Now I have got the opportunity to work with professional people and also got the right timing to use this good material in a way that will blow the metal scene away for a day or two. This new band has nothing to do with Majestic and the Great Spirit of that band, which is important to mention. My new soul work and band is called TIME REQUIEM, and will take this neoclassical- progressive- metal music into a new dimension both for me and hopefully for you as well. Fast, tight, melodic and very powerful. I will work with some of the great musicians from Majestic, but also with some new fresh blood in form of an extremely brilliant bass player named Dick Lövgren (In Flames, Arch Enemy). Wow! The man is really kicking some serious ass. Title of the record will be "Time Requiem"

Newly arrived home from the successful tour with Symphony X Richard started composing the material for TIME REQUIEM. He also started to think about potential band members. Since the great experience recording with Peter Wildoer, Apollo Papathanasio and Magnus Nord turned out very successful, Richard decided to go for these three great musicians again. The music though was too difficult for Martin Wezovski so Richard called the bass phenomenon Dick Lövgren. Dick accepted the offer to take place in TIME REQUIEM and finally the lineup was completed.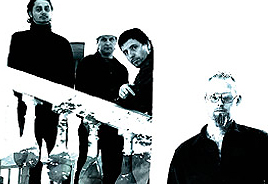 This time Richard was looking for something new and fresh. He was not that satisfied with the sound of the two previous Majestic recordings. Richard called up his old friend bass player Jonas Reingold (The Flower Kings, Midnight Sun) and discussed the possibilities of working together and doing the recordings in his studio. The result of two months recordings in Reingold studios became something very spectacular. The sound was that tight, clean and could be released just the way it was. 10 brilliant and aggressive songs were finally mixed in the famous "Studio Fredman" in Gothenburg in Sweden.

Second Time Requiem record became reality after doing some changes in the line-up. Richard speaks: "The drummer Peter Wildoer is a great musician and good friend and I consider him to be a big loss. Peter has his own band called Darkane, which he is very involved in. It's sort of death metal and they are recording a new album and will be touring a lot in the future. I sent Peter the pre-production for the "The Inner Circle Of Reality" album and he called me back and said he just wouldn't have the time. He was very sorry, and so was I. Peter has said that he would consider to play live with Time Requiem if his schedule would allow it, but I kind of doubt it will be possible as he is also working full time as a music teacher."

"Dick worked out fine of the first album and the Japanese tour we did in early 2003. He is a great musician but he is ten years younger than me and he couldn't agree with me on how Time Requiem should progress in the future. I felt a little bit of bad vibes from Dick and there were arguments. He demanded a lot of money for the next album, which I took as him saying he wasn't that interested. So we went separate ways."

So! Richard brought in friend and bass player Jonas Reingold and drummer Zoltan from Space Odyssey just to make this record reality. The recordings were done at Reingold Studio from scratch to the end.

After finishing the successful Collection record Richard already had in mind the third Time Requiem record. He was extremely satisfied by the work the musicians did on the Collection record and he decided to go for that very line up. Working with Mr. Göran Edman took his music into another dimension.

1st of September 2005 Richard started to compose the songs for "Optical Illusion" and it took two months to complete the eight songs. This time Richard had Görans voice in mind and decided to make the music a step away from the neoclassical stuff even though you can hear the special Andersson classical melodies. The music is best described as neoclassical progressive film musical metal. Richard has always been very interested in film music and the way they build up the special movements just like the old classical masters did.

Since Richard was very stimulated with the recordings for the Collection record he decided to do everything by himself. Everything is recorded, mixed and even mastered in his Lipton studio. Having this total control from beginning to end was the fact that the result is so stunning.

The Japanese bonus track is a special edition for the Japanese people. Mr Anders Johansson (Hammerfall, ex. Malmsteen) did the drums for the song "Despair and Pain" on second Space Odyssey record "The Astral Episode" one year ago. The drums did not end up on the real record but was in Richards's computer the whole time. Richard always loved that song and had the idea using the old drum tracks putting them into the song adding Mr Göran Edmans new fresh vocals on to it. The result is a rough live mix of a killer song that definitely will satisfy the Japanese die hard fans!

The artwork idea is developed by Mr. Andersson in collaboration with famous art director Mattias Norén at Progart Media in Sweden. Mattias has done cd artwork for artists around the world such as Ayreon, Hammerfall, Inflames, etc. etc.